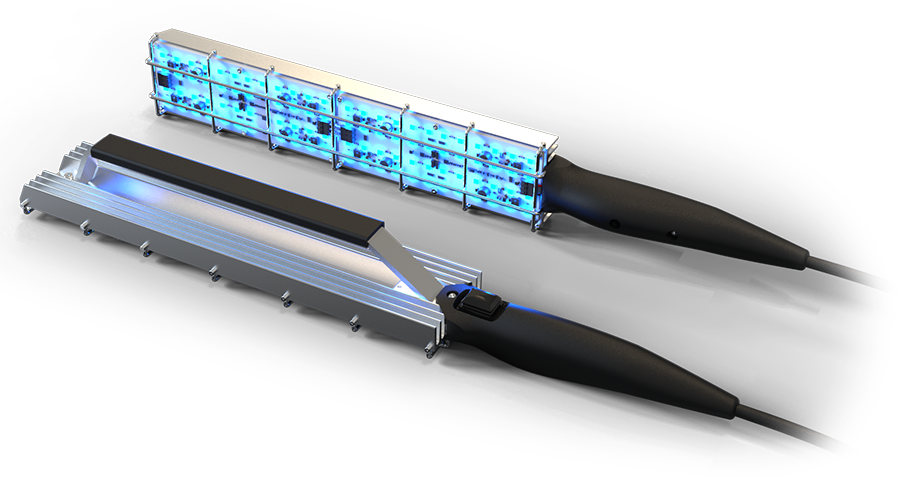 The Veolite™ V2D2™ OnePass Compact VC™ disinfecting wand has all of the same features as the larger V2D2™ OnePass VC™, but its smaller wand size allows access to tighter areas. It too is perfect for the quick disinfection of surfaces in cabins, cockpits, baggage compartments, galleys and lavatories. Just 2 to 3 seconds of exposure to the "blue zone" produced by the wand is enough for immediate and effective sanitizing.
Light in the UVC 275 nm wavelength is a highly effective method of active and rapid disinfection for unoccupied spaces. Like our sun, prolonged exposure may burn the surface of skin and may damage retinas, so appropriate precautions are a must!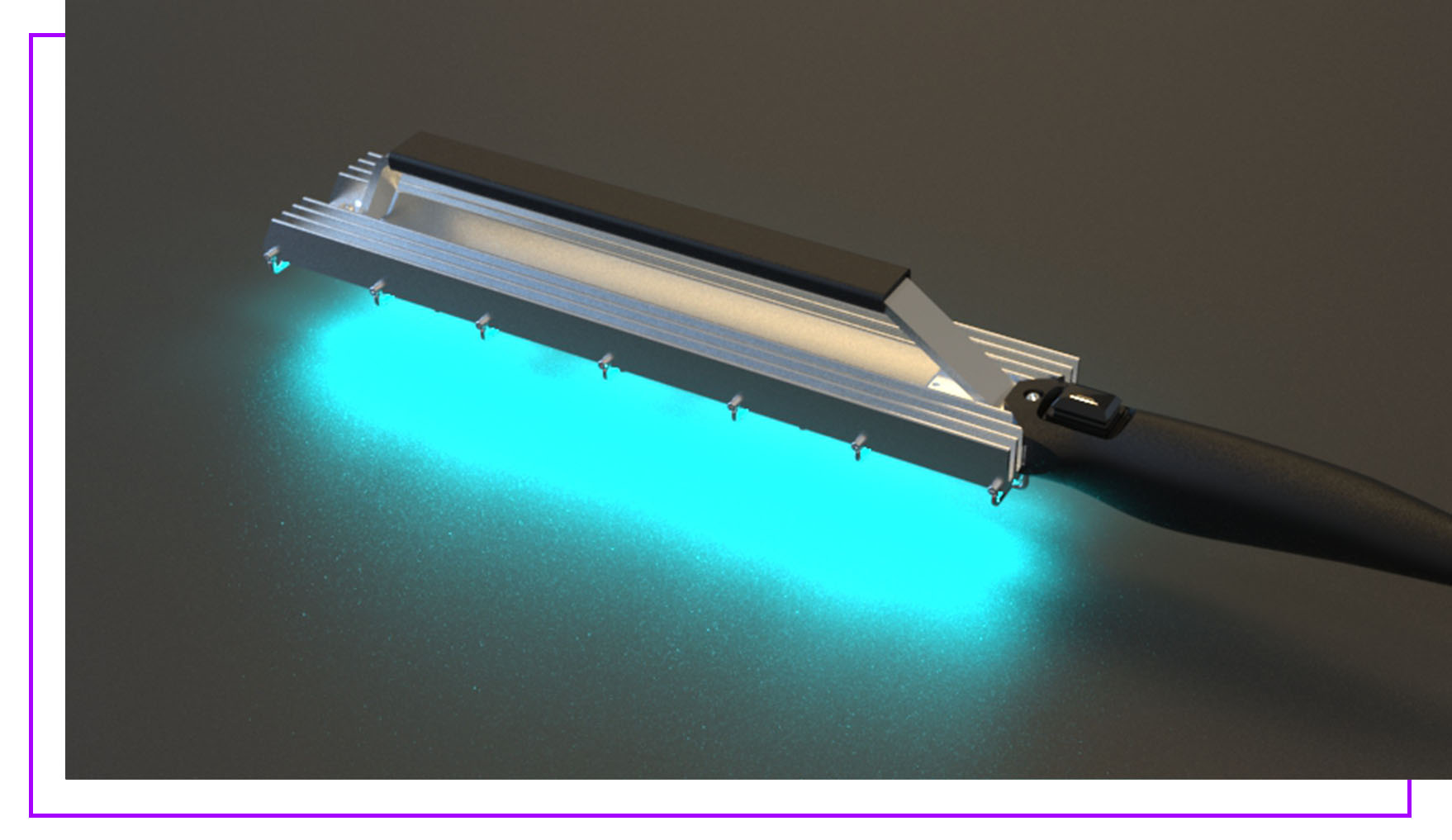 Warning: This wand is not to be operated without UVC safety goggles, and with no other personnel in the vicinity due to hazard of skin or retina damage, similar to sunburn. Do not look directly into the optical side at any time when power is on.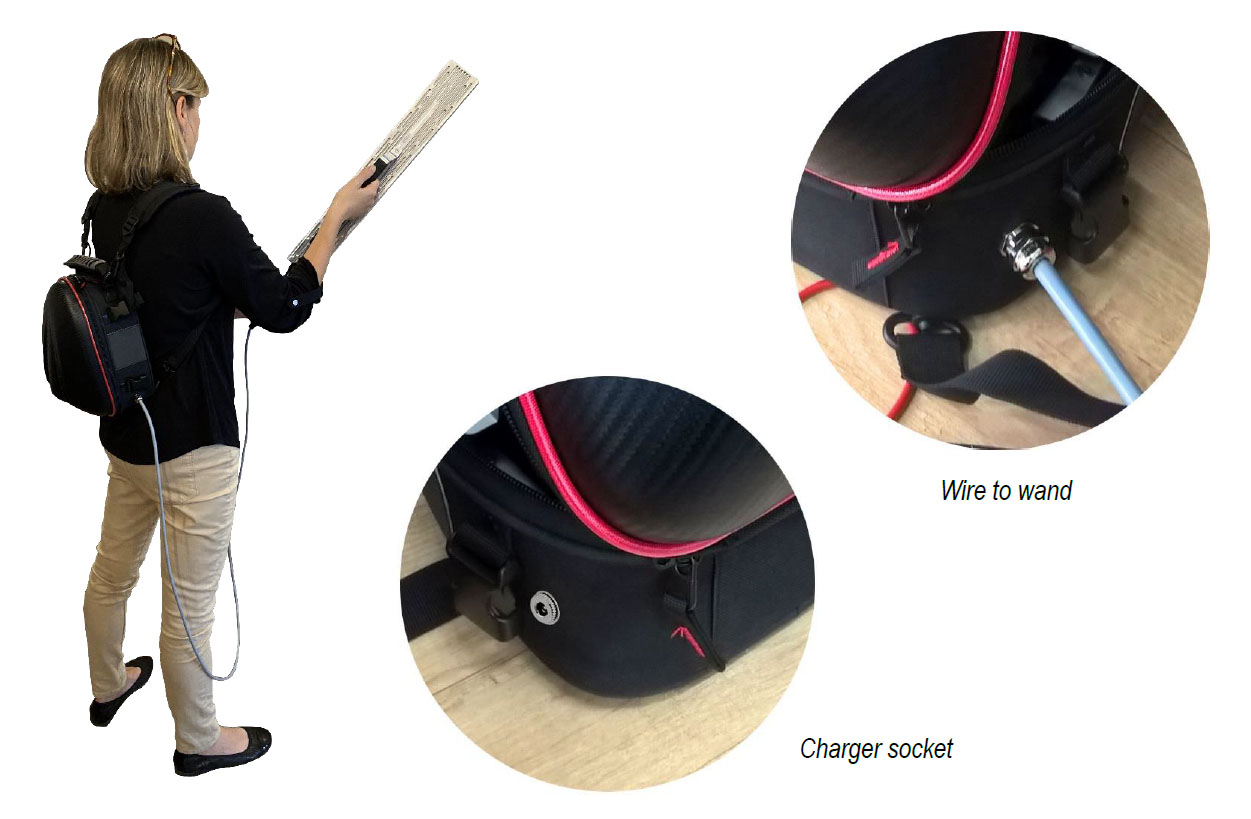 The OnePass™ wand systems are offered in three power source versions:
External power cord that connects to AC or DC sources in these voltages: 14 & 28 volts DC and 110/230 volts AC
Wand with rechargeable backpack battery power pack powering the wand for extended periods.
Wand with rechargeable waistbelt battery power pack powering the wand for short periods.
(Battery charging cord from 110-230 VAC sources stored in side of backpack)
Dimensions (mm):
542 x 75 x 71
Dimensions (inches):
21.34" x 2.95" x 2.79"
Operating Voltage Range:
14 VDC
Input Power:
80 W
Input Current:
5.6A (@14VDC)
UVC:
UVC - 275nm
1" - 1.63 mW/cm2
2" - 0.87 mW/cm2
Operating Temperature:
-40°C to 85°C
-40°F to 185°F
Weight:
1053 g /  37.14 oz
Operation time using 12V/9Ah battery:
Waist pack: 80 min;
Backpack: 160 min;