Ukrainian manufacturer Antonov has formally announced the launch of its new Antonov An-132 military freighter. The aircraft, which is a derivative of the existing An-32 Cline, will be produced jointly by Ukraine and Saudi Arabia for both military and civilian use.
Antonov (Stand 2210) will establish the facility at the King Abdulaziz City for Science and Technology (KACST). Equipment suppliers include several other major international aerospace firms, such as Pratt & Whitney Canada, General Electric, Honeywell, Liebherr and Hamilton Sun and Aveo Engineering.
Aveo Engineering will supply all aircraft lighting and several products are clean-sheet custom development solutions that have been worked on extensively in Aveo's Florida subsidiary.
Saudi Arabia already manufactures aerospace components and undertakes in-depth civil and military aircraft maintenance but has not, as yet, undertaken large-scale aircraft assembly.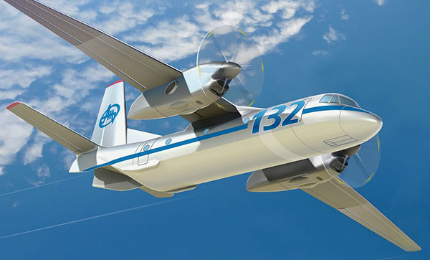 Antonov says that it has identified a global market for 900 aircraft, primarily as a replacement for the original An-32 and the older An-26, both of which are high-wing, twin-turboprop tactical transports with rear loading ramps.
The first of up to three prototype An-132s will be rolled out at the end of 2016 and will then be followed by series production aircraft from 2017 or 2018, with an initial annual build rate of 8-12 aircraft.
The An-132 is being marketed to potential customers in the Middle East, Africa, Asia, and South America, in both the military and civilian sectors. Though primarily intended as a military tactical transport and commercial cargo aircraft, the basic An-132 aircraft will be capable of carrying out a wide spectrum of roles, from air-dropping and troop transport to casualty evacuation and intelligence, surveillance, and reconnaissance (ISR).
Dedicated sub variants are already being studied for fire-fighting and for maritime patrol.
The new An-132 reverts to a more conventional engine mounting but will inherit the best characteristics of its predecessor, including excellent performance in hot climates and in mountainous terrain, and good basing flexibility, thanks to a real ability to operate autonomously from unpaved runways and unprepared airfields.