Aveo Engineering is a privately held company with zero debt with the ability make quick decisions.  Aveo has created disruptive designs and technologies in the aerospace, marine and vehicle lighting industries and has an ability to make custom solutions faster, better and cheaper than any other firm in the industry.  For you, the OEM manufacturer customer it means getting FINALLY the optimum solution for your particular needs instead of some off-the-shelf vanilla product that you have to accommodate to your designs. For you the aircraft, boat or vehicle owner or operator, you get the lightest, brightest, and most durable product in the entire industry bar none.
DOING BUSINESS WITH AVEO GROUP
Aveo is unrivaled globally in the design of ultra high performance aerospace lighting in the defense, commercial, business and general aviation markets and has over 75% of the world UAV/Drone market share.  From space to surface and sub-sea vehicles, Aveo lighting divisions solve the toughest operating environment and design environments where all our competitors have not a clue what to do.
Doing business with Aveo is very simple if you are not a corporate paperwork generation machine…
1.  We do not accept your Terms & Conditions, we may work with you on providing you a nonpareil solution but it is a very simple relationship.  You mind your business and we will mind our own.
2.  We will not read hundreds of pages of SOWs and RFPs and RFQs filled with all crazy politically correct clauses about conflict minerals and corruption etc etc.   We assume you are honest and ethical companies and we are not about to concern ourselves with who is mining what in some remote location of the world, we are not commodity traders, we are the best engineers in the world.
3.  We will not attend meetings, we will not work through your "portals" we will communicate directly via email or phone with engineers who know what their problem or needs are and we will provide the solutions directly.
4.  Aveo holds every single aerospace design and production and quality and certification approval in the world, and we are not going to provide redundant information or support endless questionnaires, the certificates are downloadable on our website for anyone to see.
Simply put, when you want a world class solution that beats all the others, talk to Aveo.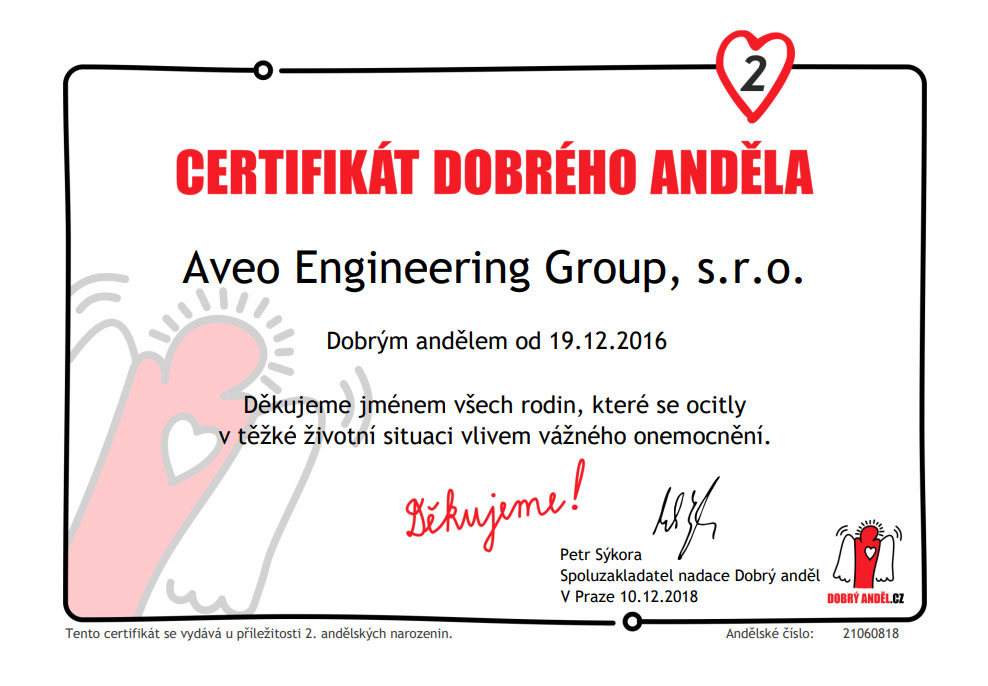 Good Angel Charity Certificate
We Are a Worldwide Company